Engage your clients
Deepen your therapeutic relationship
Set custom journal experiences to build your understanding. Personalised to each individual clients treatment plans. Provide extra support outside the practice room without extra work.
Simple to set up, easy for your clients
Let your service stand out. Use their story to guide your decisions. Tacklit's micro journaling feature allows real time insights to inform your practice.
Create a journal aligned to a treatment plan, specific conditions or themes. Personalise to each client as you determine. Utilise templates for easy reuse.
Step 2
Invite client and set reminders
Connect the client and every few days they will be nudged to stay on track. They can engage at a time that is convenient and private.
Step 3
Clients capture key lived experiences
In just 90 seconds take a snapshot of the things that matter. Questions rotate to keep things fresh. Designed and built for mobile and to be easy for all to participate.
Step 4
Use extra insight to support your therapy
Clients can opt-in to making their journal visible to you. Get snapshots that you can use for short, pre session prep. Be more informed so you can tailor your approach and hone in on key areas more efficiently.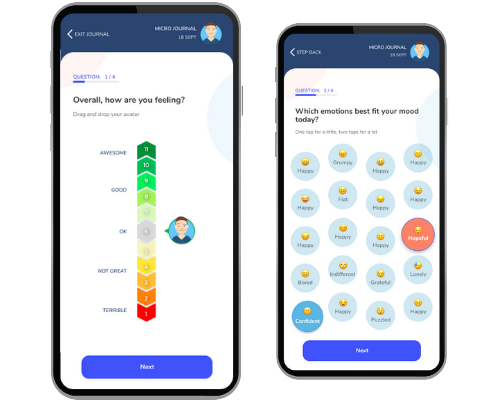 DIFFERENTIATE YOUR PRACTICE
Innovative and supportive
Tacklit's micro journaling support tools create a better patient experience, generate additional clinical insight and produce better outcomes. Show your patients the future of mental healthcare and add even more value to their lives.
Mobile first

Fast & Simple

More data

Improve insight

"This is vital for me as a coach, it provides me with real time information and means that we can get straight to the root cause of problems."
Gary Grinham - Elite Performance Coach